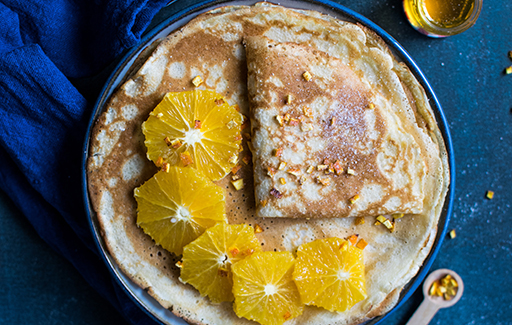 Crêpes with Orange Spread and Modica chocolate
This recipe for crêpes with orange spread and Modica chocolate is a happy encounter between French cuisine and the flavors of the Mediterranean. These orange spread crêpes with Modica chocolate are an easy dessert to prepare, requiring neither pastry skills nor special kitchen utensils, but only time to cook the crêpes one by one and patience to wait your turn to enjoy them!
Ingredients for 8 crêpes:
250 g of 00 flour
500 ml of whole milk
3 medium eggs
Butter (to grease the pan)
The peel of an organic lemon or orange
Preparation of the dough and the crepe pan
In a bowl, mix the flour with the eggs and then add the milk little by little to obtain a liquid, velvety and lump-free dough. Cover and let it rest for an hour. When the dough has finished resting, put a crêpe maker or a large non-stick pan of about 20 cm in diameter on the stove. When the pan starts to heat up, grease it with a teaspoon of butter so that it is evenly coated, but there is no excess butter.
Cooking the crepes and garnish
Mix the dough well and pour a ladleful onto the pan to create a round crêpe. When the underside of the crêpe is golden, turn it over and finish cooking on the other side. Place the crêpe on a plate and spread a thin layer of orange spread on one half of the crêpe, then fold the crêpe to obtain a semicircle; repeat the operation by spreading a layer of spread and then folding the crêpe, then repeat a third time. Garnish the crepe thus obtained by grating the peel of a lemon or an untreated orange and adding crumbled Modica chocolate. If you want, add whipped cream.