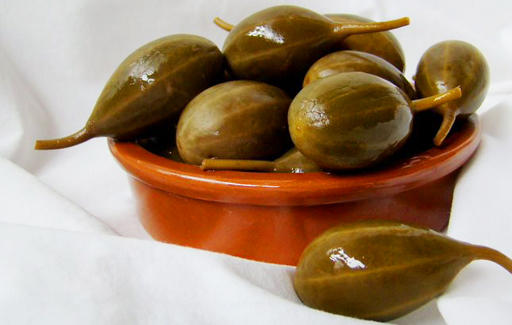 Capers and Cucunci
Capers are a common ingredient in Italian cuisine as well as the real protagonists of classic recipes such as veal with tuna sauce and the sauce alla puttanesca. Cucunci, however, much less known, are a true specialty of Sicilian gastronomy. Well cucunci are nothing but the fruits of the caper plant, while those we know as capers are the buds.
The Caper Plant
The caper plant is a small shrub spread in the wild in the Mediterranean area and especially where it finds the ideal climatic conditions: the dry heat also due to the action of the wind. So it's a very robust plant that survives in difficult drought conditions. The white and purple flowers are beautiful and together with the intense green of the foliage create wonderful landscapes on cliffs overlooking the sea. The plant is widespread in the Aeolian Islands and other minor islands of Sicily, where it often grows on volcanic rocks. It is also possible to cultivate it in pot as long as it is placed south and protected from too rigid winters.
Cucunci (Caper Berries)
The buds of the caper are small and have a roundish shape. After the flower has blossomed and becomes fruit, you get the cucunci that instead have a tapered shape with a long stem (which seems made specifically to thicken with the aperitif!). Inside the fruit there are small seeds, which however are pleasing to the palate if the fruit is harvested at the right time.
Cucunci contain high amounts of quercetin and are believed to have antioxidant, antibacterial and diuretic properties.
Preservation and Use of Capers and Cucunci
Capers and cucunci are preserved in the same way, that is, first dehydrated by placing them in salt, then always preserved in salt, in brine or in water and vinegar. It is therefore recommended to rinse and drain thoroughly before use in the kitchen and take into account the residual salinity.
Capers are used for many recipes, especially to accompany veal, such as tartare or veal with tuna sauce. For a more delicious taste try to replace capers with cucunci in these recipes. Cucunci are also suitable for other recipes as a dressing for pasta, as an ingredient for salads or toppings and side dishes of cold cuts and cheeses.